Every day a lot of people are creating new YouTube accounts and uploading their content every second.
Here are some interesting Facts about YouTube:
YouTube is the largest second search engine in the World.

Around 400 hours of videos are uploaded to YouTube channels every minute.

Number of videos watched per day is about 5 billion videos.

There are 50 million creators on YouTube.
According to the data provided by Social Blade as of 2019, there are about 26.7 million YouTube channels out there. You can find below the number of YouTube channels and their number of subscribers. They are categorized into 6 levels according to the number of subscribers (I created these names):
The Ghost: >1M Subscribers

The Colossal: >100k Subscribers

The Edge: >10k Subscribers

The Axe: 1K-10K Subscribers

The Mutant: 100-1K Subscribers

The Silent: <100 Subscribers
Amazingly, there are only 8,000 YouTube channels having more than 1 million subscribers and only 80,000 channels having more than 100,000 subscribers.
Also, the % of the Ghost channels is about 0.03% and the Colossal channels represents about 0.3%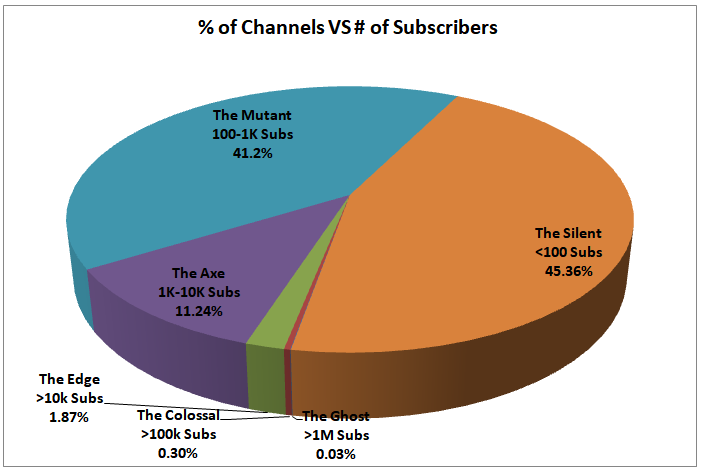 Definitely, YouTube only knows the precise and exact figures.
What do you need to grow your YouTube channel and standout in 2019?

Update: the number of YouTube channels as of Sep, 2020 are more than 44.7 million channels.
Sources: